Plan 9 Screen Shot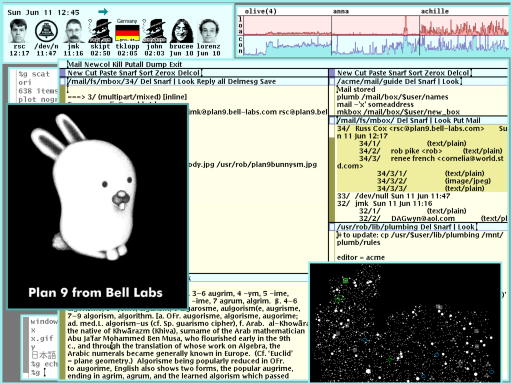 This is a 1024x768 screen in 8-bit colormapped mode. (Plan 9 can also run at 16-, 24-, and 32-bit depths.)
A multi-level MIME message containing a JPEG has just arrived; the structure of the message is visible in the Acme mail directory on the right-hand side. The graphical programs displayed are: the mail announcer faces(1), the system statistics watcher stats(8), the text editor acme(1), the sky catalog scat(7), the image viewer page(1) (showing glenda), and the window system rio(1). Acme is running Mail, which uses the mail file system upas/fs(4). Acme is also editing the rules for plumber(4).
Additional screen shots are linked on the wiki.
(Return to Plan 9 Home Page)
Copyright © 2021 Plan 9 Foundation. All Rights Reserved.
Comments to webmaster@9p.io.